Patient Testimonials
17th July 2019
Recent operation to repair a long term trigger finger. Carried out at the Rivers by Mr Wimsey, all excellent during the operation and the before and after support, and hand now much improved.
Christopher L
15th July 2019
I would like to take this opportunity to thank Mr Wimsey for suggesting the simple injection procedure that has corrected my painful trigger thumb. Done with ultra sound an injection I didn't feel a thing.
Julia S.
02nd July 2019
Mr Wimsey has treated me for both carpal tunnel surgery and a trapeziectomy. I have been to see him over the last couple of years and have found both Helen his nurse and Mr Wimsey to be kind,caring and knowledgable and the results from the surgeries I have had are amazing. The wait for both my operations were short and the aftercare has been second to none.
Pauline B.
28th June 2019
Mr Wimsey has successfully carried out Dupuytren's surgery on both my hands now.
I am very pleased and both operations were a complete success . I am now able to resume my passion for Golf.
Kevin P.
7th April 2019
Mr Simon Wimsey completed at the Rivers Hospital a Dupuytrens fasciectomy procedure to the ring finger on my right hand. This is second finger he has operated on. I could not straighten the finger, which remained at 90 degrees to the palm of my hand. Although i did not suffer from any pain, having a finger at right angles to the others was effecting my day to day life. It has been 12 weeks since the operation and my finger is straight. Full feeling has returned to the finger. I am very pleased with the outcome of the operation.
Mark M.
16th March 2019
After many sleepless nights suffering numbness and pain due to my right hand Carpal tunnel Syndrome, I have recently undergone surgery carried out by Mr Wimsey. I have enjoyed instant positive results, this procedure has been a worthwhile experience giving me full and pain free recovery. I now enjoy a restful undisturbed nights sleep, thank you to Mr Wimsey and his team.
Thomas C.
14th October 2018
My wrist is healing and i am now able to play a number of instruments again. thank you.
Christine D.
24th September 2018
I had a de quervains first compartment release by Mr wimsey who not only sorted my condition managed to cut in between my wrist tattoo so as not to spoil it but left no scar whatsoever. Highly recommended. Thanks.
Bob H.
13th September 2018
I attended Mr. Simon Wimsey's clinic at The Rivers Hospital as a NHS patient suffering from a very painful thumb on my left hand and he advised that I would benefit from a procedure called a Trapeziectomy. The operation was carried out in February 2018 and I am now completely pain free. I would like to thank Simon for his understanding and care throughout and all the staff on his team. I have no hesitation in recommending Simon Wimsey to anyone suffering with any hand condition he the best.
Jennifer S.
17th July 2018
What a dream to be able to use my hand properly and fully following Mr Wimsey's work in dealing with my Dupuytren's contracture. His care and attention to my needs were admirable as was his nurses and other staff. Thank you Dr Wimsey for stopping my eyes being poked out by my substantially bent finger when I wash, for example.
Arnold G.
27th May 2018
After a year of seeing various consultants and not getting very far at all, I eventually found Mr Simon Wimsey, well what a revelation ! Fantastic person and fantastic surgeon. Someone who finally got involved, diagnosed the problem and operated to relieve me of the excruciating pain I was in. Many, many thanks to Mr Wimsey and all of his team for an excellent job well done.
Mrs Jennifer W.
09th May 2018
Excellent medical advice and surgery. Treatment and aftercare superb Extremely profession and caring doctor Would highly recommend Thank you Dr Wimsey.
Gary T.
12th April 2018
I visited the Holy Hospital for an appointment with Mr. Simon Wimsey to discuss the problems with my left and right hands. He discussed the problem with me and informed me that to correct the little fingers on both hands he would have to do a Dupuytren's fasciectomy. I went onto the waiting list and a few months later on the 7th February 2018 I had the operation on my right hand. The operation was a complete success and my little finger on my right hand is now back to normal. I am now waiting to have the other hand done. I have had no pain or any side affects, so I would like to congratulate Mr. Wimsey on an excellent job well done.
Richard A.
6th March 2018
After a year of pain and not being able to bend my wrist, I was referred to Dr Wimsey through my GP who straight away told me what the problem was He booked me in for an ultra sound scan which confirmed the painful ganglion in my wrist. After my follow up appointment with Dr Wimsey he explained the Aspiration procedure in detail I would be having. The procedure went smoothly and was pain free (bonus) after a couple of days the stiffness and pain had finally gone. Still now a few months on I am able to move my wrist freely! I am really happy with the service and treatment I had received and I would highly recommend Dr Wimsey for any hand and wrist problems.
Karis
6th February 2018
I was referred to Mr Wimsey by my GP under NHS terms because of problems of restlessness sleeping at night in my wrists particularly the left hand side . I had previously had injections by my GP which had given some relief but only temporary . Mr Wimsey examined me and recommended a small operation on my wrist to release the pressure on my carpal tunnel area . The operation was a success and now difficult to see where it was on my wrist . I did have a follow up in relation to my right hand wrist which had some of the symptoms previously described and Mr Wimsey suggested having an ultrasound guide injection to see if this would help and I am pleased to say that this has been successful and it is good to know that surgery may not always be needed.
Nicholas D.
9th January 2018
After 60 years of playing stringed instruments professionally and as an amateur the dreaded hand problems began. I was referred, by my GP to Mr. Wimsey for my left hand which was giving me pain gripping the fingerboard. The diagnosis was an arthritic Trapezium at the base of my thumb. Injections were tried which had some effect, but the pain returned after a few months. During this time my right hand was becoming numb due to Carpal Tunnel Syndrome and again I was referred to Mr. Wimsey , who explained the two problems and described the procedures required and directed me to his website which shows animated videos of the operations so that I was fully aware of what was to take place. Having never had an operation in my life I was a bit wary of having two. Mr Wimsey suggested we do the Carpal Tunnel one first as it was under local anaesthetic, a fairly short procedure and recovery time was also fairly short. In fact I was using my wrist and hand almost normally within six weeks. Mr. Wimsey said that after the Trapeziectomy operation (see website video Arthroplasty) I would lose some grip pressure but otherwise the hand should perform normally without pain. I had the operation in August and in late November I was able to play again. My worst fear was that I would not be able to play again but Mr. Wimsey was pretty sure that all would be well...and it is!! For any musicians that have similar problems and misgivings about hand operations........ Put your hands in the hands of Mr. Wimsey! Many,many thanks to Mr. Wimsey and his team of nurses, Physiotherapist, Anaesthetist and receptionists at the Rivers who were all most helpful.
Roy J.
1st November 2017
On the 17th october 2017 i saw mr wimsey at the rivers hospital, hertfordshire.he performed a trigger finger/thumb release operation, The whole procedure frim start to finnish was brilliant virtually no pain at all after the operation and now 2 weeks after op, stiches out i have fully recovered and feel fantastic to the the use of my hand back...Many thanks to mr wimsey and all his staff...
Frank S.
10th October 2017
I fractured my wrist early May 2017, two days after the final plaster was removed at my local hospital, my thumb tendon severed due to fragments of bone from the break. From the very first consultation with Mr Wimsey throughout my surgery, post operative care, physio & discharge today my care by Mr Wimsey has been first class. I have no hesitation in recommending him & his team together with Susie the Physiotherapist who is also absolutely excellent. My operation was a tendon transfer which has been a complete success. I am back to my sewing with no pain whatsoever. Before the transfer I had no use in my thumb at all. Mr Wimsey explained everything in detail pre & post operation. I followed Susies advice & help with all the exercises. I am extremely happy with the outcome & delighted with the full use to my hand. Sincere thanks to Mr Wimsey, Susie & the team at Rivers.
Wendy W.
09th September 2017
I have had reoccurring Dupeytrens Contracture in both hands for a number of years and both hands have been operated on in the past. The left hand had become particularly deformed again, closing into a fist and very limiting. to use. Mr Wimsey successfully operated on my left hand, straightening the figures so that I can now place the palm of the hand flat on the table. The operation was a great success, I am very pleased with the result and the outcome is much better than I could have expected. The aftercare and physio at the Rivers Hospital under the NHS was also excellent.
Colin M.
06th September 2017
I was recently admitted as a day patient to The Rivers Hospital through the NHS funding under the care of Mr Simon Wimsey and his team, for a operation on my trigger finger which I had endured for a number of years. I really appreciated the care given to me throughout each and everyone gave me, keeping me informed as to what was happening.
My trigger finger is now a thing of the past and I can now use my hand without any discomfort or pain. I would not hesitate to recommend Mr Simon Wimsey to all who are in need of surgery. Many Thanks to Mr Simon Wimsey and his Team.
Rosemary H.
06th September 2017
After 7 years of arthritic base of thumb joints - having exhausted all conservative treatments including several painful ultrasound guided injections - I took the plunge and had a trapeziectomy on my left hand. Mr Wimsey did my surgery on 12 May under the NHS. After 6 weeks in plaster and some physio I am at last pain free and everything is good. I can't thank Mr Wimsey enough. Everything went well and my hand is back to normal.
Sylvia C.
19th August 2017
Had a garrods pad cut out by mr.wimsey on my little finger. Cannot thank this man enough was in a lot of pain before opp now totally pain free and not even a scar.
Mark F.
14th August 2017
I had my right carpal tunnel operation at the end of February 2017 after experiencing severe pain for about a year. I'm pleased to say the operation was a great success & I can't thank Dr Wimsey enough. It feels great to be pain free!!!.
Tahira C.
30th June 2017
Hi, my name is Martin and I work for a major pharmaceutical company after working on twenty year old equipment that was an ergonomic nightmare i eventually ended up with tennis elbow in both arms and golfers in the right arm.After extensive physio and shockwave treatment it was evident an operation on the right tennis elbow was inevatible. MrWimsey said it was one of the worst he has seen, it entailed shaving the bone cutting mussle away and extensive tidying of the tendon. it has been 8 months post op with remarkable results. This has filled me with great confidence and may return to have the op on the left arm.
Martin L.
13th June 2017
I have had a carpal tunnel and trigger thumb operation on my right hand (I am right handed)It was difficult after the operation to do somethings but not for too long Mr Wimsey and his team did a wonderful job I was warned about pain in the hand but this did not happen I could not be any happier with the results thank you all very much.
Denise P.
27th May 2017
Hi Following an accident in which I managed to twist, fall, and sit on my wrist, my wrist sadly, healed in all the wrong places. The accident occurred on a Sunday, and yes, perhaps I should have been at church instead! In the months following, I tried at length to make (encourage) the pesky wrist work properly, but try as I may, IT WOULD NOT, The stabbing pains, the loss of control, turning and lifting made fundamental things difficult, meal preparation traumatic, and sleeping difficult. This issue has been completely resolved by the surgery carried out by Mr Wimsey and his team – my wrist, together with its metal plate, screws, and a 'bit' of my hip bone feels totally back to health. I am able to use my wrist completely normally, and have total faith in its operational ability. Great result. Thank You
DWJ
3rd May 2017
I had redo double carpal tunnel operations on both hands, with fat graft on different dates by Dr Wimsey I must say since the operations I have had no pain at all. I was very pleased with Dr Wimsey and his team for being professional out standing and putting me at ease from start to finish I would most definitely recommend Dr Wimsey to any one.
Jenny T.
25th April 2017
I can not thank or praise Dr Wimsey and his team which for their good work. The pre-op assessments through to aftercare and subsequent discharge have all been faultless. The care I received on the day was exceptional, made so much easier and me less nervous by David the ODA and anaesthetist Aaron. Thank you also to the post op nurses. I would most definitely recommend Dr Wimsey and his team.
Keelie G.
24th April 2017
Following a radial fracture which resulted in a shortening of the radius and problems with the position of the bones, I could not rotate my wrist and was in considerable discomfort. I was referred to Mr Wimsey who ultimately carried out an ulna osteotomy. This was carried out under a block rather than a general and has improved my wrist function dramatically. For the first time in 14 months I have had very littlle diiscomfort and have regained almost 100% movement of my dominant wrist. I would not hesitate to recommend Simon Wimsey and his team.
Ann B.
19th April 2017
I was referred to Dr Wimsey as I Had a trigger finger. This was confirmed by his examination. He explained what the problem was and recommended an injection into the joint. He told me that it would sting. I booked an appointment and had the injection which did sting initially but the problem has gone away. Today I had my follow up appointment and was discharged. I would recommend him.
Henry M.
12th April 2017
I arrived expecting to be told i needed surgery on s broken finger. The problem was resolved by a steroid injection instead. The service was fast informative Thank you
Lee C.
23rd Feb 2017
My name is Andrew Dennehy and I am a 54 year old company director. I have enjoyed a lifelong love affair with fitness and health ever since my university days. Presently, I am still a very keen rower and weightlifter. However, after many years of training, in the summer of 2014, I started to suffer acute pain in my right elbow, which Mr Wimsey subsequently diagnosed as severe ' Golfers Elbow'. When it became apparent that injections did not help me, Mr Wimsey suggested that a surgical resolution was my best option.
He duly operated on my elbow shortly thereafter, in the summer of 2015. Since the surgery, I have been pain free for the last 18 months and have also been able to fully engage with my training once again, proving that the operation was a resounding success. From the first consultation with Mr Wimsey to my post operative care and subsequent physiotherapy course, the care and treatment that I received were both first class. I am very happy to endorse The Wimsey Hand Clinic and would certainly make Mr Wimsey my first port of call if a similar situation arose again.
Andrew D.
7th Feb 2017
Over the last two years Mr Wimsey has operated on both my hands rectifying Dupeytrens Contracture. Both operations went very well and the aftercare was excellent
John S.
7th Feb 2017
I was referred to Mr. Simon Wimsey after my Dupuytren's Disease became worse. It affected the little finger of my right hand, which I couldn't straighten. Mr Wimsey reviewed my case and elected for surgery. I was only in hospital for a day, and after 4 weeks my recovery was well on its way. Its now been 3 months, and I have re-gained fully use of my hand and its made a huge difference. Many thanks to Mr Wimsey not only for the surgery but in the professional and caring manner in which it was performed
Duncan B.
27th Jan 2017
My recent carpel tunnel surgery was carried out by Mr Wimsey and even though this was an NHS funded procedure the whole experience was exceptional. Mr Wimsey's manner was friendly and helpful, whilst the actual procedure was painless and successful. I may have to have my other hand done and would hope that I may be lucky enough to be treated by him again.
French K.
17th Dec 2016
I want to say thank you to Mr Wimsey for the removal of a ganglion on the side of my right wrist. I had the operation mid – September and my wrist has now completely covered so I have no pain in it which I had suffered for 2 yrs previously. The operation went smoothly and I felt quite well afterwards. I am very pleased with the result and that I had it done.
Briony Ownshend
2nd Nov 2016
I suffered a major injury which was isolated to the small finger on my right hand. Mr Wimsey described it as a nasty injury and that the finger was "smashed". Surgery followed, which involved Mr Wimsey fixing a sprung metal gage to the finger to support and straighten it, as the bones knitted to together. It was the first time he had used this piece of equipment. I now have a near perfect looking small finger that has virtually regained its full movement and function. I would like to thank Mr Wimsey for his fantastic work and skill. I would also like to say how impressed I am with Bishops Stortford and Harlow hospitals and the NHS.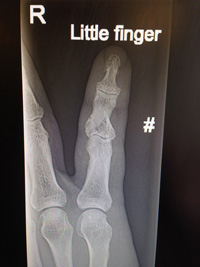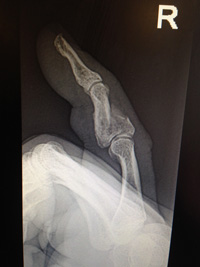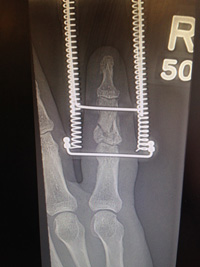 Paul Beauchamp
2nd Nov 2016
Mr Wimsey came highly recommended, I had carpal tunnel decompression in both hands and with amazing results with no complications after the surgery, 100% success, I now have full feeling again, I would not hesitate to call upon Mr Wimsey services again.
Andrew Crockett
5th Sept 2016
I had my surgery done by Mr Wimsey through The NHS. I had carpal tunnel surgery. I found the whole experience fantastic, and ten weeks post op I can not even see my scar. I would highly recommend Mr Wimsey to anyone contemplating carpal tunnel surgery.
Charisse
30th Aug 2016
Pain and symptoms in my right wrist were affecting my work. Mr Wimsey listened, ran tests and diagnosed the problems and operated very promptly. Great results, and 17 months on, a problem with my right hand and finger resulted in an injection. Thank you for taking care of an extremity which I seem to be wearing out.
Lynne H
15th Aug 2016
Perhaps others would not have considered having surgery for removal of a digital mucous cyst on their finger and just put up with the pain and inconvenience of it discharging regularly in the hope it would go away eventually. I, however, was fed up with months of a sore, ugly, throbbing finger. I was referred to Mr Wimsey who gave me the options and I decided on surgery as I just wanted it gone. An approximate 20 minute procedure and a few weeks later I see very little evidence of where it was. Thank you Mr Wimsey and your team for making the process run so smoothly and making me feel at ease. Very pleased to have been referred to you.
Jill Holt
16th May 2016
Mr Wimsey, I just wanted to say an enormous thank you for the excellent care you took of me and my wretched broken wrist! You made the whole process worry-free and, thanks to you, I am now firmly on the road to recovery.
With best wishes,
Sam Bristow
2nd May 2016
Hi Simon,
I have now been 'cured' of the severe Dupuytren's in my right hand. Within a week of the enzyme (Xiapex / Xiaflex/ Collagenase) treatment the results were quite astonishing. All credit to Simon Wimsey; it has been very special to shake his hand properly in gratitude!
Regards
Andrew Boyd
19th April 2016
I was referred to Mr. Simon Wimsey after my Dupuytren's Disease became worse and was really affecting my lifestyle. As a chef it was painful and beginning to limit my work and affecting everyday life. I decided to have the operation and felt Mr Wimsey was the best surgeon to operate and after talking to him decided to go ahead. I am so pleased that I have had the operation and would really recommend anyone to have the operation as it has really been well worth it no pain anymore and leaving me to get on with my life as a chef.
I am extremely happy with the way I was treated. I felt at ease all the way, during the whole part of my treatment from the start to finish. Mr Wimsey was so easy to talk to and has a great rapport with his team. I felt so at ease in the operating theatre and was kept informed all the way along. The whole experience has been great. I would thoroughly recommend Mr Wimsey to anyone who is thinking of having the operation or is unsure as to whether the operation is right for them, to go and see him for advice. The follow up treatment of Physio and check-ups was first class.
If I can help anyone in the future to decide by talking to them to share my experience, please feel free to contact me
Allyson Mackintosh
13th April 2016
I've been recently operated for the carpal tunnels by Dr. Wimsey, I found back very quickly a normal use of my hands after the 2 consecutive interventions. I received from Dr Wimsey all the information I needed about those operations.
I recommend this surgeon for his professionalism and the quality of his work.
Genevieve M.
On 23rd March 2016, at Holly House Hospital, I underwent a Needle fasciotomy for Dupuytren's contracture on my left hand.
The procedure was performed by Mr. Simon Wimsey. This short surgery was made very easy for me by his explanation and reassurances and went very well indeed
I met with Mr. Wimsey one week later to have my hand examined. He was happy with the result and was pleased to discharge me.
I am delighted with the result and wish once more to thank Mr Wimsey.
Esther Pierson