Mr. Simon Wimsey
MBChB MRCS FRCS (Tr & Orth)
Consultant Trauma & Orthopaedic Surgeon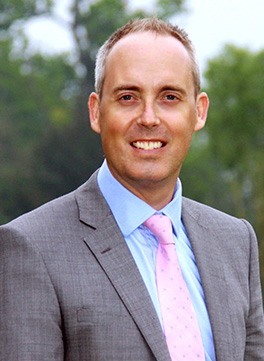 Mr Wimsey is a Consultant Trauma & Orthopaedic surgeon with a special interest and expertise in hand, wrist and elbow conditions.
According to his 2023 PHIN data (Private Healthcare Information Network) he sees approximately 3100 clinic patients and performs just over 600 hundred operations per year. 98% of his patients are either likely or extremely likely to recommend Mr Wimsey to their family or relatives. He has a 0% death rate and a complication rate of less than 1%. He treats almost all upper limb conditions, including those requiring specialist nerve, tendon, bone and arterial grafting. He also uses a microscope or magnification loupes for the majority of the operations he performs, enabling him to take special care of the small vital structures present in the hand, wrist and elbow.
Mr Wimsey's practice covers Hertfordshire, Essex and Middlesex and he will endeavour to treat you at your preferred location. His treatment philosophy is entirely patient focussed and centres on getting you better as quickly as possible whilst minimising the risks and side effects of any treatment he proposes.
Over 75% of the patients he sees in clinic do not require surgery. This may be because the problem is self-limiting, or that appropriate physiotherapy is all that is needed. These treatments include splinting, ultrasound therapy, warm wax baths, ultrasound and shockwave therapy. Some conditions can be cured either temporarily or permanently by steroid injection. A small proportion of patients may then go on to require surgery. It must also be emphasized that some medical conditions can only be treated by surgery in order to have a satisfactory outcome. This can be keyhole or open and Mr Wimsey can provide his expert advice as to which avenue to choose for which condition.
Click on the images above to view the enlarged photos
Fellowship trained in Hand and Upper Limb Surgery
Mr Wimsey is a dual fellowship trained Hand & Upper Limb Surgeon who qualified from Bristol University Medical School in 2000. He undertook both his Basic and Higher Surgical Training in Wessex. In 2009, he completed an AO Trauma Fellowship in Grenoble, France, under the auspices of Professor Saragaglia, where he learnt specific techniques in the management of complex upper limb trauma. In 2012 he undertook a 6 month Sports Medicine fellowship with Mr Peter Hales in Perth, Western Australia, caring for a number of elite athletes as well as learning his pioneering techniques of endoscopic peripheral nerve surgery. He then spent a further 6 months working for Professor Tonkin in Sydney, NSW at the Royal North Shore Hospital, gaining exposure to microsurgery, brachial plexus and congenital hand surgery.
Current NHS consultant post held
Consultant Trauma & Orthopaedic Surgeon, Princess Alexandra Hospital NHS Trust, Harlow
Research interests
During the course of his training, Mr Wimsey has published over a dozen scientific articles on orthopaedic disorders and has presented at both national and international conferences. He is also an invited reviewer for several Orthopaedic Journals, regularly audits his work and teaches on courses for trainee surgeons at both MRCS and FRCS (Tr & Orth) level.
Personal interests
When not at work, Mr Wimsey enjoys playing squash, cycling, windsurfing, skiing and spending time with his wife and two young children.
Languages spoken
English / French Bilingual
Spanish (conversational)
Publications
Plaweski S, Grimaldi M, Courvoisier A, Wimsey S. Intraoperative comparisons of knee kinematics of double-bundle versus single-bundle anterior cruciate ligament reconstruction. Knee Surg Sports Traumatol Arthrosc. 2011 Aug;19(8):1277-86. Epub 2011 Feb 11.
Mercier N, Wimsey S, Saragaglia D. Long-term clinical results of the Oxford medial unicompartmental knee arthroplasty. Int Orthop. 2010 Dec;34(8):1137-43. Epub 2009 Oct 17
Debus G, Courvoisier A, Wimsey S, Pradel P, Moutet F. Pins and Rubber Traction System for intra-articular proximal interphalangeal joint fractures revisited. J Hand Surg Eur Vol. 2010 Jun;35(5):396-401. Epub 2010 Feb 11
Forli A, Courvoisier A, Wimsey S, Corcella D, Moutet F. Perilunate dislocations and transscaphoid perilunate fracture-dislocations: a retrospective study with minimum ten-year follow-up. J Hand Surg Am. 2010 Jan;35(1):62-68. Epub 2009 Nov 22
TPC Kane, P Rogers, J Hazelgrove, S Wimsey, GD Harper Pulsed radiofrequency applied to the suprascapular nerve in painful cuff tear arthropathy. J Shoulder Elbow Surg. 2008 May-Jun;17(3):436-40. Epub 2008 Mar 7.
S Wimsey, R Pickard, GD Shaw Accurate scaling of AP pelvic digital x-rays – a blinded prospective trial of two practicable methods J Bone Joint Surg Br. 2006 Nov;88(11):1508-12.
S Wimsey, CF Lien, S Sharma, PA Brennan, HI Roach, GD Harper, DC Górecki Changes in Immunolocalisation of B-Dystroglycan and Specific Degradative Enzymes in the Osteoarthritic Synovium. Osteoarthritis Cartilage. 2006 Nov;14(11):1181-8. Epub 2006 Jun 8.
S Wimsey, J Kurian, and ITA Jeffery Spontaneous recovery of extensor pollicis longus tendon rupture following intra-articular distal radius fracture Injury Extra (2006) 37, 331-333
S Wimsey, TPC Kane, E Davies, D Pounder, S Mansour and ITA Jeffery Open cryosurgery for chronic median nerve pain. Injury Extra (2006) 37, 292-293
Wimsey S, Thiruchelvam N, Keoghane S. A key cause of paraphimosis. Int Urol Nephrol. 2006 Feb;38(1):111-113
Courses offered to GPs
Please contact Mr Wimsey's secretary to arrange a seminar or lecture on hand, wrist & elbow conditions
Qualifications
FRCS (Tr&Orth)

RCSEd 2011

MRCS

RCSEd 2005

MBChB

Bristol University 2000
Additional training
AO Trauma Fellowship

AO 2009

Upper Limb Sports Medicine Fellowship

POSM, Perth, Australia 2012

Microsurgery Fellowship

Royal North Shore Hospital, Sydney, Australia 2012
Professional bodies (positions held - last 3 years)
Member of BSSH

British Society for Surgery of the Hand 2011
Details of entry to specialist register
Full Specialist Registration with General Medical Council, 2012
Mr. Simon Wimsey
The Holly Hospital
High Road BUCKHURST HILL
Essex IG9 5HX
Phone: 0208 936 1263
The Rivers Hospital
High Wych Road SAWBRIDGEWORTH
CM21 0HH
Phone: 01279 602 250
Princess Alexandra Hospital
Hamstel Road HARLOW CM20 1QX
Phone: 01279 444 455
BMI The Cavell Hospital
Cavell Drive, Uplands Park Rd,
Enfield, London,
Middlesex EN2 7PR
Phone: 0208 366 2122
Spire Bushey
Heathbourne Road, Bushey,
Watford WD23 1RD
Phone: 0208 950 9090